Type FGB without damper
Type FB/G with damper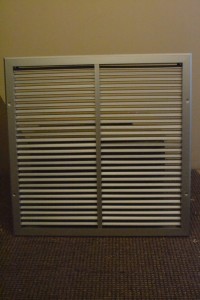 Description:
Supply and extract all purpose grille.
Made from extruded aluminum.
Blades are fixed at standard 45 degree but also available at 0 degree to give maximum air flow or 15 degree.
Standard frame – 32mm bevelled but also 25mm flat flange if required.
Overall dimension – nominal plus 45mm
Overall depth – 28mm without damper or 72mm with damper
Minimum wall depth – 23mm without damper or 67mm with damper
Free area – 80% and still 80% with damper fully open
Standard colour is satin anodized but also available in white, RAL or BS colours.
Hinged or removable core also available to allow filter and access to ductwork.