Type NVG1 – Standard
Type NVG2 with Backing Flange
Type NVGS Slimline Surface Mounted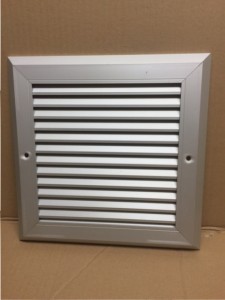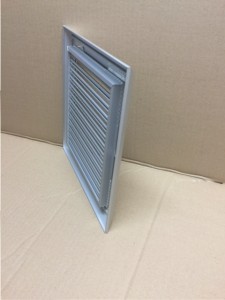 Description:
A very robust grille made from extruded aluminum and recommended for internal use only.
Used when some privacy is required and yet ventilation is vital.
Fixed blades are angled to stop sight from any angle through the grille but still allowing sufficient free air to maintain ventilation.
Standard finish is satin anodised. White or RAL or BS colours are also available.
The NVGS is ideal for a door as its flush mounted to sit proud on the door. Our Fire Blocks can also be incorporated with these.
NVG1
NVG2
NVGS
Application
Supply and extract vision proof recessed grille
Supply and extract vision proof grille with backing frame
Supply and extract surface mounted grille most suitable for doors
Blades
Fixed chevron
Fixed chevron
Fixed
Frame
32mm bevelled
32mm bevelled
Check
Overall dimensions
Nominal plus 45mm
Nominal plus 45mm
Nominal plus 45mm
Overall depth
46mm
46mm minimum

66 maximum

16mm
Free Area
38%
38%
38%